I am totally in love with anything tie-dye and completely yarn obsessed. If you're anything like me, then you'll have a blast crocheting and tie-dyeing your very own beanie.    
I have been one happy hippie mama with the tie-dye trend coming back and have really wanted to create a beanie in tie-dye for months now. Especially after I discovered the awesome tie-dye like yarn at Hobby Lobby, I Love This Yarn in the colors Orange Burst, Fruit Punch, and Meadow Dance where the yarn itself is tie-dye inspired, but the items crocheted with it still get stripes instead of the organic tie dye shapes we all know and love. 
So I set out to figure out if I could tie-dye my favorite beanie, the Basic Babe Beanie. I started down the research rabbit hole of dyeing yarn and let me tell you, there is a lot that goes into dyeing your own yarn. I found you could attempt to dye acrylic yarn with regular acrylic paint but it would most likely wash out over time, and I even bought some Rit Dye to try out on a wool yarn I had found, but it was still not quite the tie-dye style I was hoping for. I almost threw in the towel on my attempt to tie-dye a beanie, but then I had an ah-ha moment while obsessively watching tie-dyeing videos. You use 100% cotton t-shirt to make any of your favorite tie-dyeing techniques. My favorite yarn store, Hobby Lobby, sells 100% cotton yarn that would essentially work the same way. So I ventured out to my local store to grab the biggest TULIP tie-dye kit they had and about 10 skeins of I Love This Cotton yarn. When I got home I got started right away making a Basic Babe beanie, and couldn't crochet fast enough.    
When I finally got my beanie all finished, I was like a kid in a candy shop. Watching the bright rainbow of colors come to life on the newly crocheted Basic Babe was mesmerizing to say the least. There were certainly a few bumps in the process of making that first tie-dye beanie, ie: wetting the beanie first would have allowed more of the colors to soak into the fibers and out of pure excitement I may have forgotten to do a decrease round on the top part of my beanie, but it really is just as simple as making your favorite pattern in 100% cotton yarn and tie-dyeing your finished crochet piece.   
So let's get started making your very own tie-dye beanie.    
Materials Needed:   
100% cotton yarn   
Basic Babe Beanie Pattern (or your favorite pattern of choice)   
A tie-dye kit ( I used this Tulip kit from Hobby Lobby)   
Rubber Bands (these usually come in dyeing kit)   
Gloves (also found in a dyeing kit)   
Optional: a cooling rack and pan to do your dyeing on for a cleaner surface   
Optional: soda ash for a pre-soak mordant, to help the dye colors stay more vivid after washing   
Once you have finished making your Basic Babe beanie, you'll want to wait to finish it off and close till after you've dyed it. You will follow these 10 steps to get your finished tie-dye piece.  
  1. Choose a tie-dye technique (I used these 6 techniques)   
       Rainbow Stripes Tie-Dye 
       Free Dye Tie-Dye 
       Reverse Tie-Dye 
       Bullseye Tie-Dye 
       Ice Dye Tie-Dye 
       Crumple Tie-Dye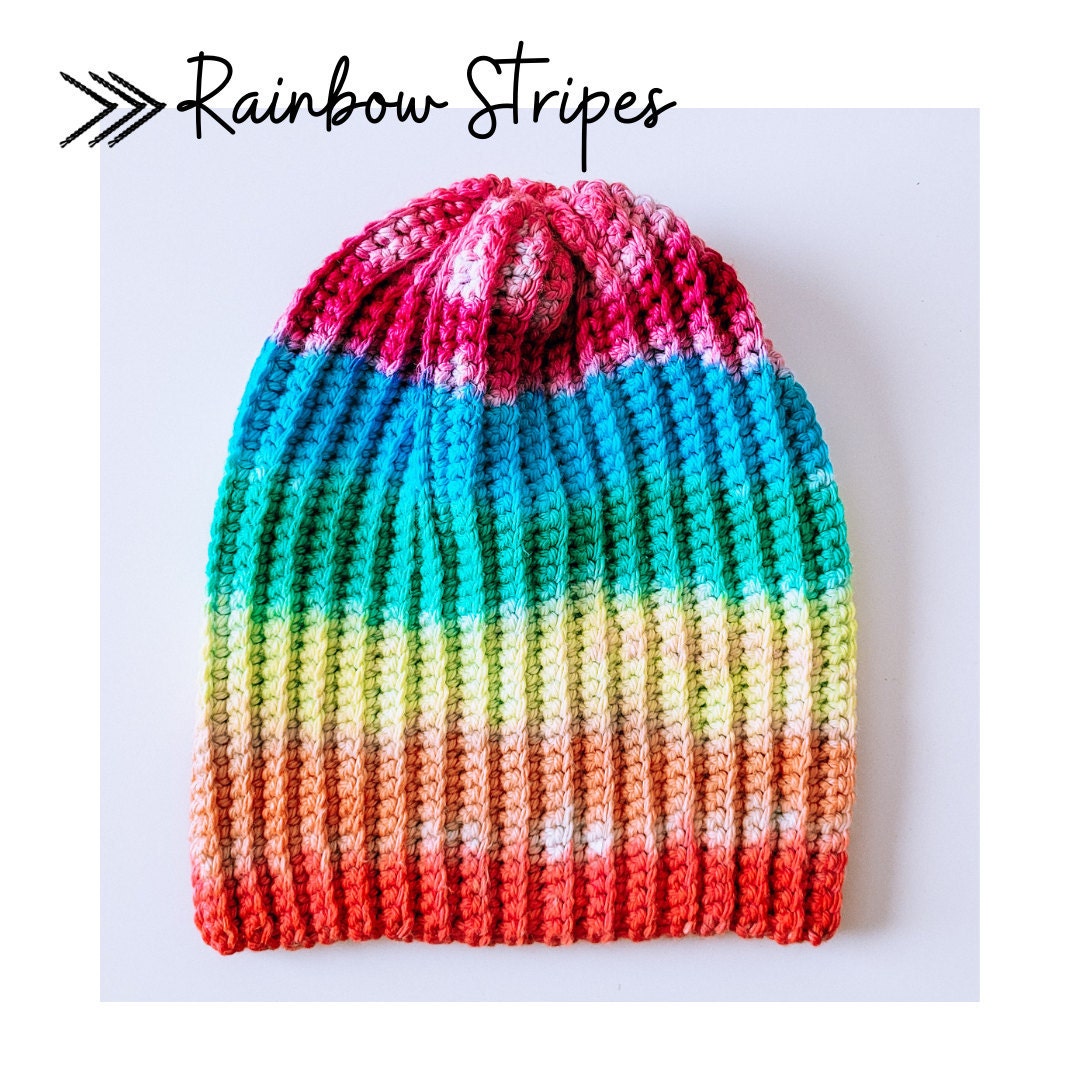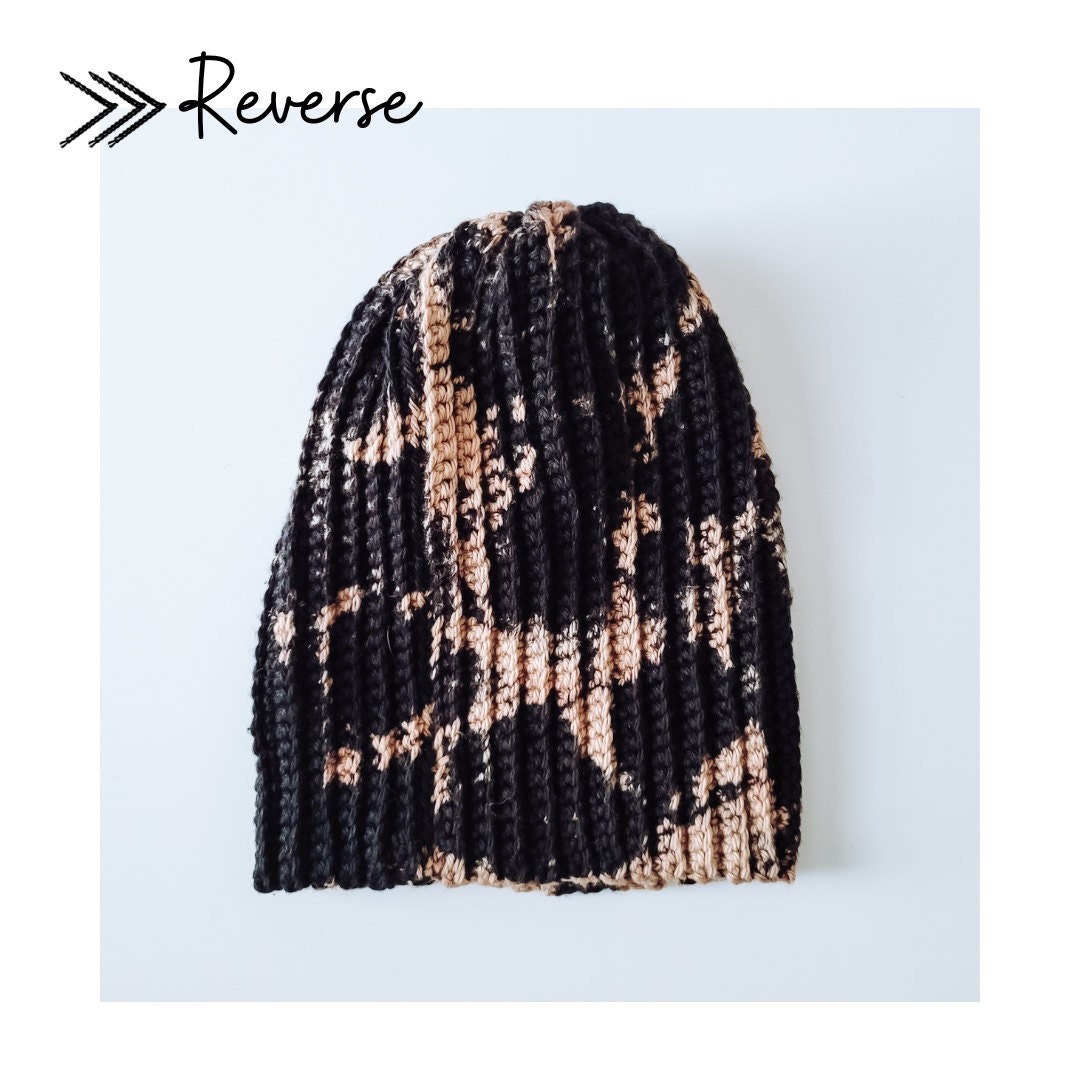 2. Choose a dye color palette (Tulip has some really cool ready to use color palettes   
3. Get your finished Basic Babe Beanie (or crochet piece of choice) wet/damp. Optional: Soak for 20 minutes in a soda ash solution to prepare the fibers to accept the dye.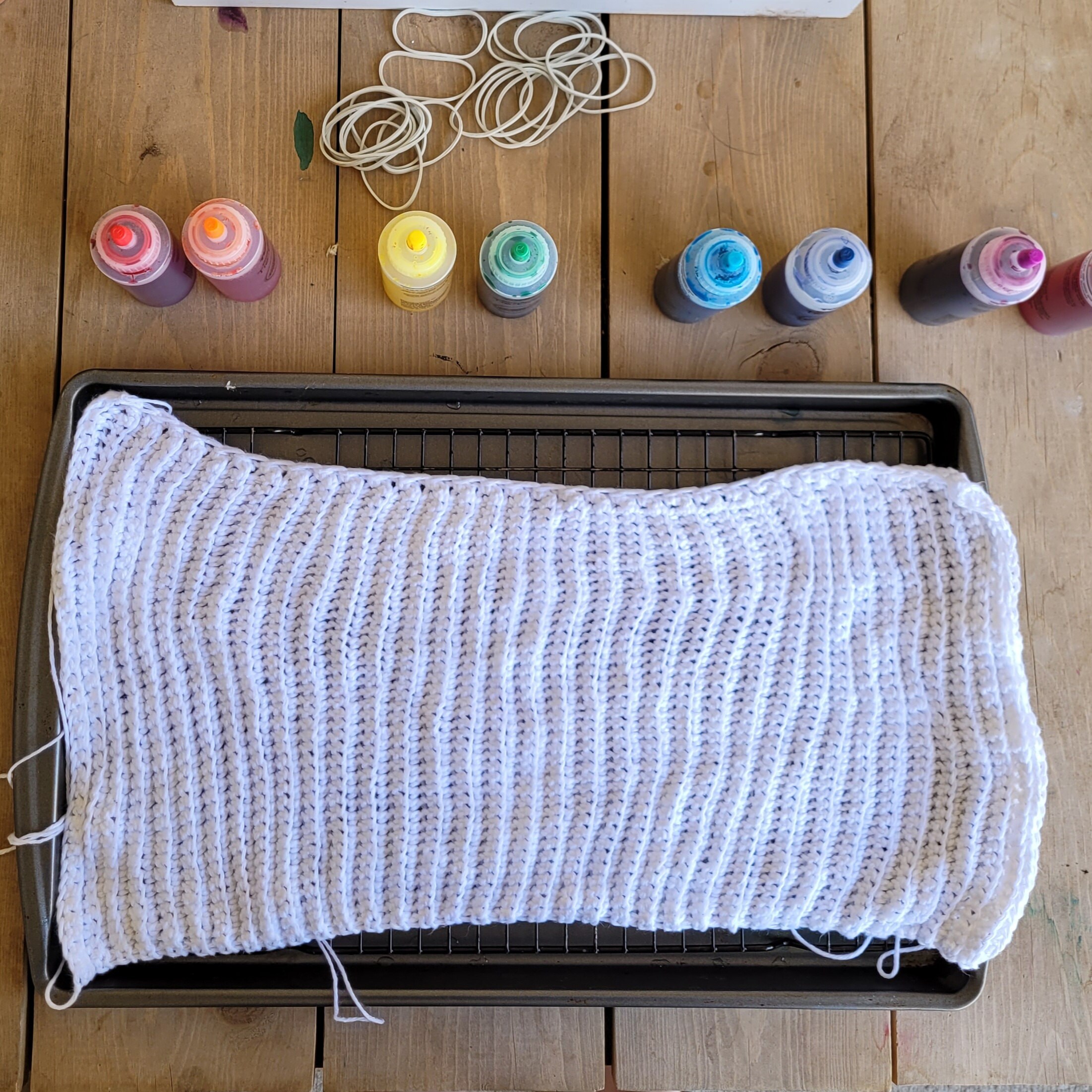 4. Follow the steps for your technique of choice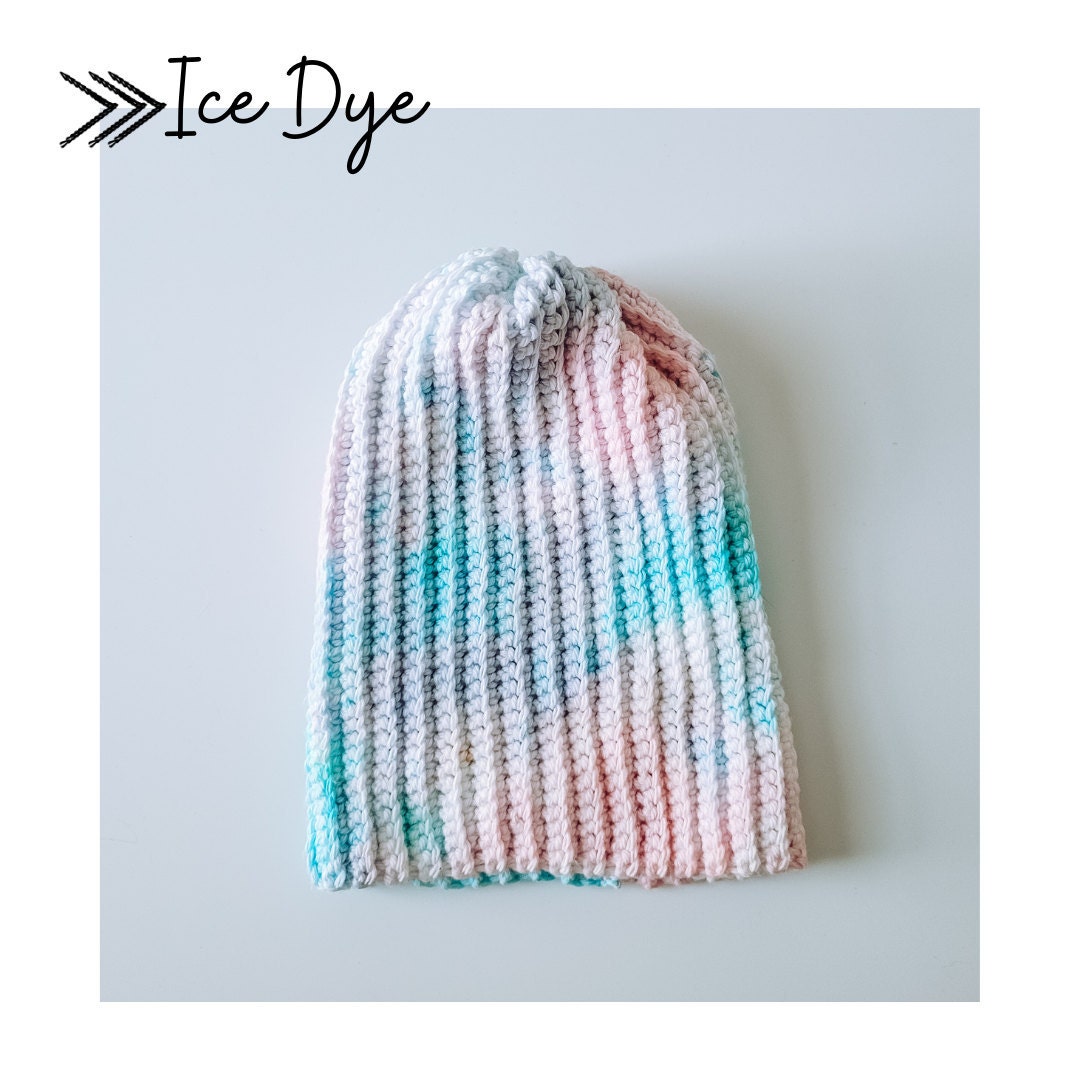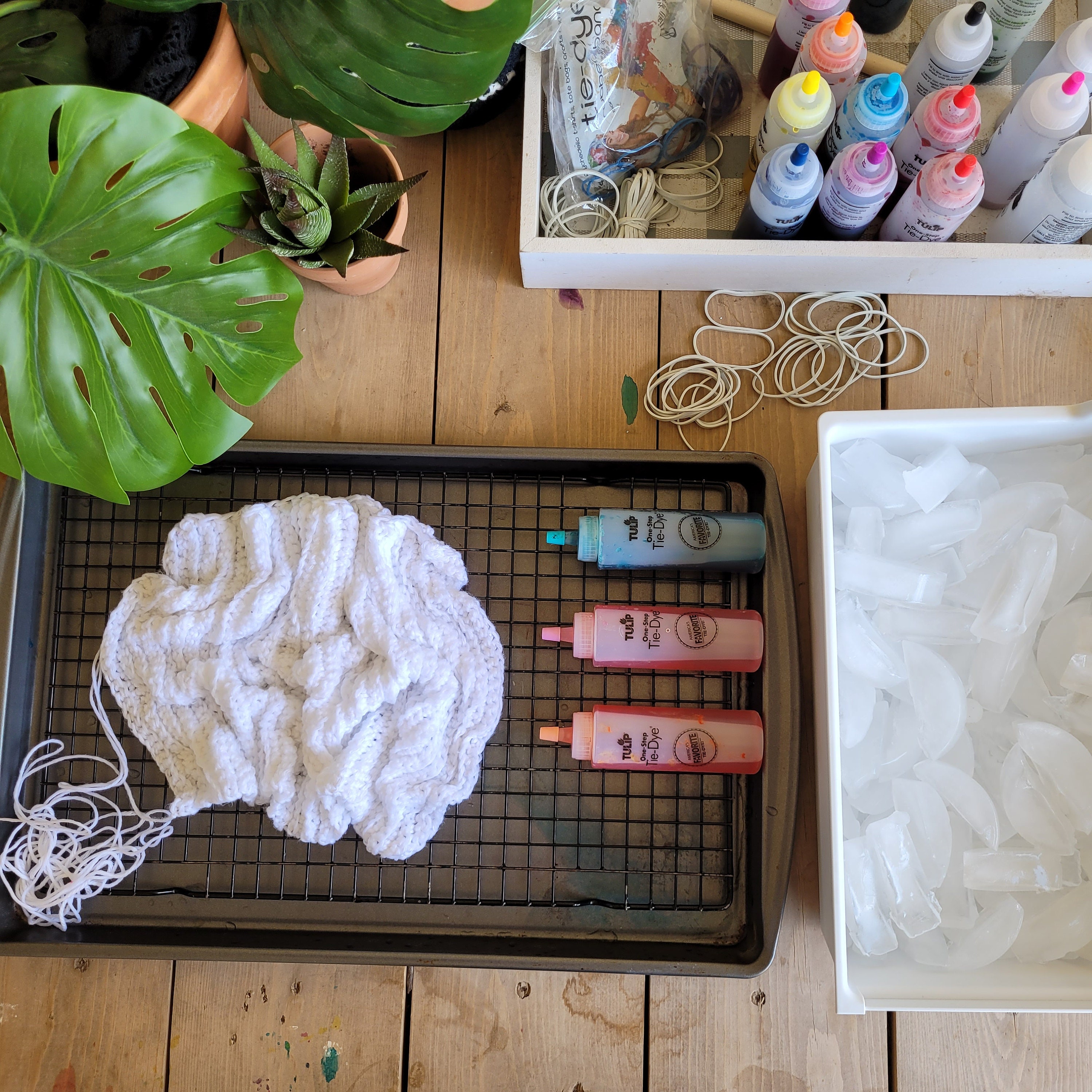 5. Add dye   
6. Let dry according to the steps of the dye ( I let mine air dry over night)   
7. Rinse out the dye and wash   
8. Let air dry again (I again let mine air over night) 
9. Finish your Basic Babe Beanie following the pattern instructions  
10. Show off your totally awesome and groovy tie-dye beanie   
Helpful Tip:   Since yarn is a bit bulkier than a cotton t shirt be sure to cover all the fiber you are wanting to dye well.     
Seller Tip: Make sets of beanies, coffee cozies, or even headwraps in unfinished white yarn and some dye in a bottle as kits for your customers to have a summer fun tie-dye day!   
  So what are you waiting for? Grab your hook, the Basic Babe beanie pattern and a tie-dye kit to show off your summer grooviness all year round. Show me your finished tie-dye pieces so I can show them off to world too, using the hash tags #crochettiedyebeanie #tiedyecrochet #DYEingtocrochettiedyebeanie #crochettie-dye #hippiecrochettiedye #tiedyehippiecrochet #groovycrochet